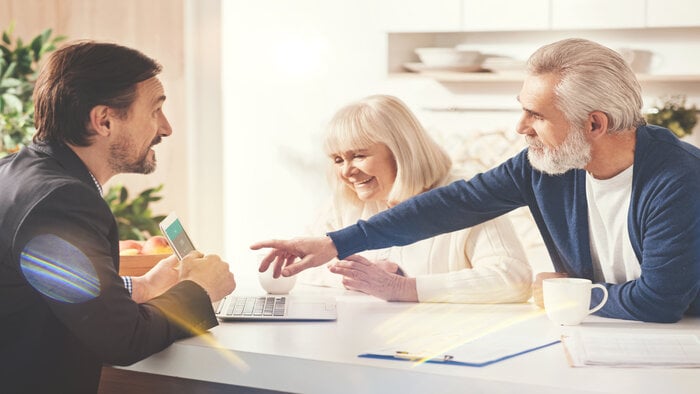 Many children have a little ceramic piggy bank they joyfully drop spare change into if they are lucky to have some. Recently, my three-year-old niece received some quarters and announced that she is putting them in "Fiduce" (pronounced Fi-du-sh), short for "Fiduciary," her ceramic piggy bank. (We were impressed she knew how to pronounce "fiduciary.")
But, of course, she had our attention and told our family that her piggy bank was a fiduciary – like the bank on Mary Poppins. Perhaps the lyrics from the song "Fidelity Fiduciary Bank" in Mary Poppins haven't had the same influence on you as they did on my niece, but as my niece knows, a fiduciary is a good thing and something you want to have!
What Is a Fiduciary?
A fiduciary may be one thing you know is good, but what is it? When I asked my niece, she stated that it was someone who takes care of your money. That's part of it, but so much more. According to Investopedia, a fiduciary is a person or organization that acts on behalf of another person or persons, putting their client's interests ahead of their own with a duty to preserve good faith and trust. Being a fiduciary thus requires being bound both legally and ethically to act in the client's best interests. The fiduciary standard is not just with financial planners but other professional relationships, such as a trustee of a trust or between an attorney and client. This blog will focus on the fiduciary relationship between a client and a financial advisor.
Financial Planning and Fiduciaries
What does that look like? First, it's listening and understanding a client's goals and objectives, what is important to them, and how they think about their finances. Short-term and long-term goals, risk tolerance, and investment experience are all financial components that are important to establish early on in the client relationship.
After developing and implementing a strategy based on this conversation, it is the ongoing management and monitoring of the plan and always putting the client's best interest ahead of ours. For instance, we provide insight on current fees on accounts and what that fee would be if the assets moved to our firm.
It's also about putting clients into appropriate investments. For example, I recently encountered a client with a Roth IRA (tax-free account) annuity that was being charged around 2% in annual fees. Since Roth IRAs are tax-free accounts, it would appear that the advisor who initially set up the account as an annuity was not acting with the fiduciary standard. Placing a client into investments with lower fees and expense ratios leaves more money in a client's account but less "kickback" to the advisor. Therefore, putting the best interest of the client ahead of their own.
Since we mentioned fees, let's stop there for a moment. As a client, understanding how your financial advisor (or prospective advisor) is compensated is prudent and essential. There are three ways a financial advisor gets paid:
Fee-only advisors: charge an annual, hourly, or flat fee
Commission-based advisors: compensated through selling investment products.
Fee-based advisors: compensated by a combination of a fee and commissions.
Fee-only advisors do well when the client's account does well, as the advisor charges a fee percentage on the assets under management (AUM). It's upfront and transparent. Commission-based advisors or fee-based advisors can have some hidden fees. Since there are various ways an advisor is paid (and not all financial advisors are held to the fiduciary standard), it's important to know how they are paid so you can be confident with your advisor. Be sure to ask fee and compensation questions upfront, and don't be afraid to address fees throughout your relationship with an advisor.
Why is it Important to Work with a Fiduciary?
We are all consumers and want to be confident with whom we trust to manage the assets we have worked hard to build. Therefore, establishing and maintaining trust is crucial for the fiduciary standard. Clients can be confident that an advisor will always keep this at the forefront of their minds as they work together.
How to Know if You're Working With a Fiduciary?
All registered investment advisors and insurance agents are held to a fiduciary standard. Many have certifications or licenses listed behind their names. Birchwood's financial advisors are CERTIFIED FINANCIAL PLANNERSTM (CFP®) professionals. All CFP® professionals are held to the fiduciary standard and must act in the best interest of the client. A CFP® professional is held to the following code of ethics and standard of conduct:
Duty of Loyalty: places the client above themselves and the firm.
Duty of Care: a CFP® professional must act with the care, skill, prudence, and diligence that a prudent professional would exercise in light of the Client's goals, risk tolerance, objectives, and financial and personal circumstances.
Earning the CFP® designation is a feat that can takes much effort to earn. However, one can lose the designation quickly, and firms can face the consequences if they are found not acting with the fiduciary duty.
Now you know more about the significance of the fiduciary duty than my niece does about her fiduciary piggy bank. It made me a very proud auntie to hear those words from her sweet little voice, especially in light of the fact I was an adult when I learned the definition of a fiduciary.
So perhaps you think it's time to move the cash from the piggy bank to work with a fiduciary. Here at Birchwood, we have established trust with clients for over 30 years with our team's care, loyalty, and financial planning to serve our clients with fiduciary standards. We invite you to learn more about our process and schedule a meeting here.