Birchwood Financial Partners has been rated as one of the Top 12 Financial Advisors and Wealth Managers in Minneapolis by AdvisoryHQ.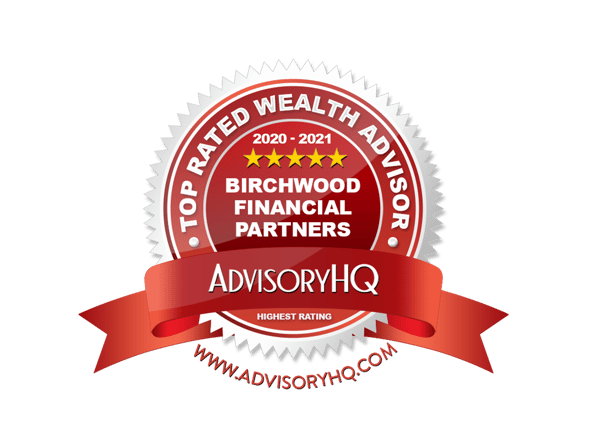 AdvisoryHQ's review shared the key factors for Birchwood to be included in the review:
Helping clients live their most meaningful life is a key focus of Birchwood Financial Partners. This Edina, Minnesota wealth management firm typically works with clients with a minimum asset balance of $1,000,000 but does make exceptions.

The firm is fee-only and also a fiduciary. It helps clients identify how money intersects with their values, goals around family, work, and lifestyle.

As a top Minneapolis wealth management firm, Birchwood advisors prize personal relationships and truly getting to know each client.
Broad Spectrum of Services
This Minneapolis wealth management firm and its advisors have cultivated a diverse set of experiences and expertise to deliver broad-spectrum services to its clients.

It is also one of the few wealth management firms in Minneapolis that highlights sustainable investing, something that is becoming more important to investors looking to the future.
The firm's services include:
Sustainable, Responsible, Impact Investing—The Minneapolis financial advisors at Birchwood can guide you toward investments that reflect your environmental values and promote sustainable business practices
Legacy Planning—Forward-looking planning for how your assets will be managed in the event you cannot manage them yourself that creates a roadmap for the future
Investment Management—Focuses on long-term strategies identifying the appropriate mix of various types of assets in your portfolio
Retirement Planning—Sessions designed to uncover financial goals and explore options for sustainable income once you reach retirement
Cash Flow and Budgeting—Helps you balance your goals and lifestyle with cash flow so you can gain better control of your financial future
Tax Planning—These Minnesota financial advisors will work closely with tax professionals and accountants to implement efficient tax planning strategies
Insurance Review—Helps clients optimize existing insurance coverage in areas such as life, disability, health, long-term care, and property-casualty
Charitable Giving Strategies—Assists clients with finding flexible, tax-advantaged ways to make charitable donations to causes they believe in
Education Planning

—Assists parents with balancing financial resources and educational planning for their children

Talented, Diverse Team
Birchwood was founded in 1990 and has a diverse team of Minnesota financial advisors, with qualifications including Certified Financial Planner™, Chartered Advisor in Philanthropy®, Chartered Financial Analyst, and Chartered SRI CounselorTM.

Many team members are active in local and professional affiliations. They have also earned various awards and accolades, which is an indicator that this fee-only financial planner in Minnesota is a leader in its field.

A unique aspect of this Minneapolis wealth management firm is that the majority of its financial advisors and support staff are women. This is a stark contrast against the financial advisory industry as a whole.

Birchwood successfully maintains a commitment to championing a diverse, talented team of Minnesota financial advisors in an industry that is notorious for being less diverse.
Rating Summary
For three decades, Birchwood Financial Partners has offered a high level of customized service for clients. Its industry-leading team stands out both for their accolades and commitment to continued education in their field.

Being among the top-rated financial advisors in Minnesota and the firm's notable themes of gender diversity and sustainable investing, make it truly unique.

With a dedication to client success first and foremost and a broad selection of services, Birchwood earns a 5-star rating as a top Minnesota financial advisor to consider working with in 2020-2021.
Read more at AdvisoryHQ: https://www.advisoryhq.com/articles/top-rated-financial-advisors-in-minnesota/
Click here for additional information on AdvisoryHQ's Selection and Ranking Methodologies.
To learn more about AdvisoryHQ visit advisoryhq.com