Well, I made it 2 ½ months before flying to Los Angeles to see Marc, my daughter and grand dog. In the last 13 years of being together, Marc and I have never gone more than 2 weeks apart despite living 1,500+ miles away from each other (we commute between Los Angeles and Minneapolis). Although we are used to being apart and know how to keep connected in spite of the distance, this time felt longer and harder. While in the past I felt a twinge of guilt when working away from the office for many days, I no longer feel that way. One of the positive outcomes of COVID-19 is that it doesn't really matter where you are working, for those of us who have the good fortune to be able to work remote.
There are other changes that have come from the shelter-in-place directives- some good, some not so good and others are just different. On the good side of the equation is that I have been playing piano more frequently. It amazes me that the brain and fingers can remember how to play music that was learned so many years ago. New stuff has been a little more challenging. I hope, as some memory experts have proclaimed, that playing music, new or old, helps to build new brain cells. If I have any luck at all, it may counteract the brain cell damage I have also done during this time at home due to one or more too many virtual happy hours.
Speaking of virtual gatherings, I hosted a virtual baby shower for my daughter who is expecting her first child in August. She lives in Los Angeles and we had hoped to celebrate the upcoming birth of their baby boy with MN friends and family and the virus forced us to change our plans. The replacement celebration was a virtual event. Although we weren't able to gather face-to-face, friends and family rallied and the good wishes and heart felt advice was heartwarming to hear.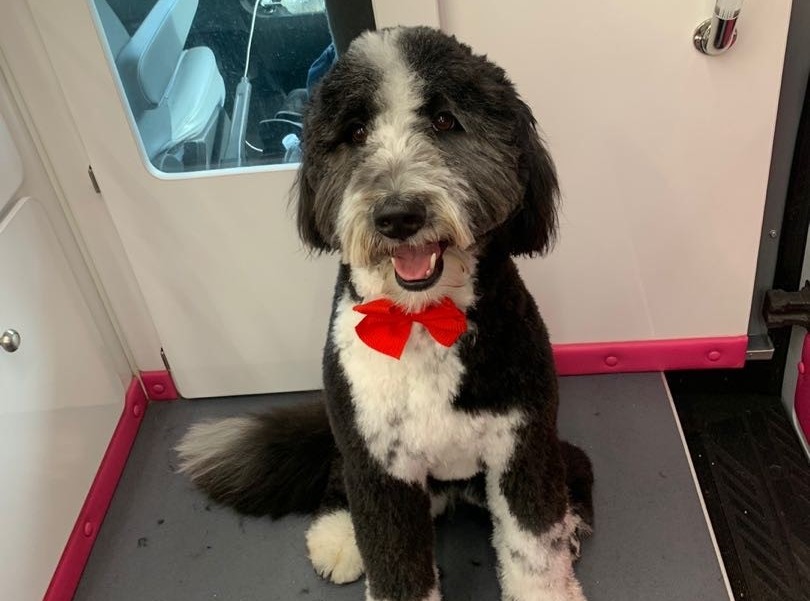 The picture above is that of my grand dog Cinco after a fresh cut.
Like most offices, our team members are working from home. We recently had a team member move onto a new firm, and we so wanted to get together to say our goodbyes. We organized an outside picnic in my backyard with a historical photo/story album of her time with Birchwood and it felt so good to have the "band-back-together again" so to speak and to send her off with all of our good wishes. The gathering also gave us the opportunity to catch up on birthday and work anniversary celebrations. Who knows what office life will look like in the future, but I look forward to once again gathering the team together more often.
Sounds have become more noticeable to me, maybe because there are fewer distractions. Birds seem to chirp louder, quiet seems to be quieter, and I have become more comfortable with the quiet. Like many of us, I read a few more books, tried out a few new recipes and watched a few more movies than I have done in the past but for the most part it was all ok. All but a few people I know have not gotten the virus. Spring has come and there is more opportunity to get outside, the golf courses are open and I have been playing relatively well after a winter with a few golf lessons. I remain hopeful that we will all emerge from our time spent at home with a little more appreciation for the good things in our lives and a little more compassion for how obstacles, like this virus, in life can impact all of us in very different ways. On one podcast, I heard the term to be an "aggressive" friend during times like these. For most Minnesotans, aggressive anything can sound overwhelming, but this Minnesotan is trying my best to be an aggressive friend when making connection is what most of us are craving.
Cheers!
Dana Brewer