The Birchwood team is doing well. We are now on our 4th week at home and have managed to stay closely connected every day, even if it's not face-to-face. We've realized the importance of technology and are more appreciative than ever to be able to continue providing advice and support for all of you, even if it's from the confinement of our own homes. We've enjoyed getting to do virtual calls with some of our clients, and we love hearing all the wonderful ways in which people are keeping busy. I thought I'd share my personal isolation experience, which happens to include 3 year old twins…enough said!
Our kids are typically in daycare full time since both my husband and I work. My husband Adrian is a Minneapolis Police Sergeant and works downtown on an afternoon/evening shift. When the world as we knew it was normal, we had our daily grind in place of who's dropping kids off and who's picking them up. More often than not, we are literally high-fiving each other in passing. Our daycare closed for two weeks in an effort to sanitize and create new protocols for when they would be able to reopen. So our days quickly were filled with who's working and who's watching kids. We, more than ever, have a huge appreciation for teachers who teach all ages. That certainly is a job that doesn't get enough praise!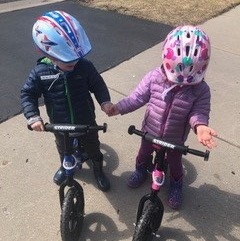 Amazingly enough, we've all adapted. We realized very quickly that kids need structure in their day. We read books, do puzzles, have a new art activity every day, bake, and play outside as much as the weather allows. We've literally used every cardboard box, newspaper, toilet paper roll, and egg carton for something creative. It's amazing how many different ideas you can come up with that have zero cost but ultimate entertainment (thanks Google!). Another huge bonus…the twins are BOTH potty trained and are learning to ride bikes!
Most importantly, we've learned how to slow down. How to embrace each other's ups and downs and how to support each other when it gets hard. My kids have no idea that something big is happening around them. All they see is their mom and dad home more, giving them more hugs and celebrating all the new things they are learning. Slowing down has been the best gift my kids could've asked for. And I'm so glad that this will be their lasting memory.
Birchwood is a team that values relationships, family and personal time. We've all been extremely busy but have made it a point to help each other so we each can have quality time away from our computers. Whether that be spending time with our kids, helping with homework, cleaning out closets, exercising, etc. We all have those things that are helping us to be fulfilled in a challenging period of time.
We've come to learn the perspectives of this period are all different. In many ways people are struggling and in other ways thriving. We are here to support you wherever you are on this journey.
To our extended Birchwood family, stay healthy, focus on the positives and know we are a phone call away!
Sincerely,
Rachel Infante