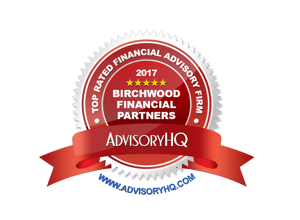 For the second year, Birchwood Financial Partners has been ranked as one of the Top Financial Advisory Firms in Minneapolis, St. Paul and Edina by AdvisoryHQ.
AdvisoryHQ's review shared the key factors for Birchwood to be included in the review:
Fee-Only Advisory
As a leading Minneapolis financial advisor, Edina-based Birchwood is a fee-only advisory firm. Their compensation is based on the value of the assets its advisors manage for each client. This means that, in order for the firm to be successful and generate more revenue, it must ensure that client portfolios are doing well and thriving.
As a general rule, Birchwood Financial Partners supports clients with investable assets of at least $1,000,000 or more. That being said, exceptions to this rule are sometimes made.
Holistic Financial Planning
Birchwood is a Minneapolis financial planner that believes in a holistic approach to financial planning. The company's philosophy of "Whole Life Planning" encourages a much broader look, which includes looking at life goals, personal and family values, success, and security when building personalized financial plans for its clients.
Diverse Client Base
As a dynamic wealth manager in Edina and broader Minneapolis, Birchwood advises an ideologically diverse client base through an equally diverse and dynamic team of advisors.
A Full-Service Firm
As a well-established financial advisor in Minneapolis, Birchwood Financial Partners extends the range of its services by helping clients communicate with other key professional service providers, where required, including lawyers, accountants, and insurance professionals. This approach ensures the consistent implementation of the clients' financial plan.
To read the full article click here.
Advisory HQ News is one of the fastest growing review and ranking media for the financial advisory sector. AdvisoryHQ's Methodology for Selecting Top Advisors.
To learn more about AdvisoryHQ visit advisoryhq.com