Giving Thanks and Giving Back
At Birchwood we are committed, both personally and professionally, to making a difference in our community. We encourage our team to support causes they are passionate about by offering each team member two paid volunteer days and a matching donation gift program each year.
We asked our team to share the causes they have chosen to give their time and money to this past year: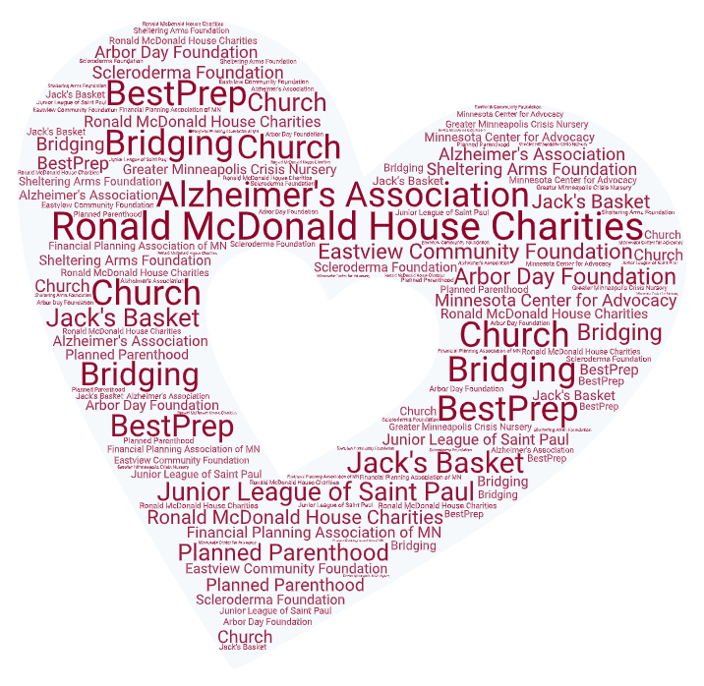 "I support the Eastview Community Foundation through both giving and volunteering. The foundation focuses on the teachers and students in Apple Valley, where I live. I feel that educating children to reach their full potential not only helps them but our society at large. Through Birchwood's employee giving matching dollars, our family donates a scholarship to a graduating senior who has provided outstanding service to the community."
-Bridget Handke, CFP®, CAP®, Financial Advisor
"So many favorites...
Planned Parenthood – for making women's health care and education accessible to women
Sheltering Arms Foundation – a grantmaking organization that supports programs and policies benefiting Minnesota children and families. I was president of the organization and served on the board for 6 years and continue volunteering on the stewardship committee.
Minnesota Center for Environmental Advocacy – for ​using law, science, and research to protect Minnesota's environment, its natural resources, and the health of its people.
- Kay Kramer, CFP®, Financial Advisor
"I have a blast volunteering with the kids a couple times per month at the Greater Minneapolis Crisis Nursery. The nursery is a trusted resource for families in crisis and they offer free services for parents and children. The nursery connects families to resources, caring for their children during difficult times, and setting goals that promote self-sufficiency and make the relationship between the parent and child stronger.
Every year I ski to raise money the Scleroderma Foundation. Scleroderma is a chronic connective tissue and autoimmune disease. Hardening of the skin is one of the most visible manifestations of the disease although it can impact any organ. We raise money by skiing as hard and as fast as we can go over the course of a day. Our vertical descent is tracked and used to tie into pledges. "
- Dana Brewer, CFP®, Financial Advisor
"A couple of charities that are important to me are:
Alzheimer's Association – my mom suffered from this horrible disease for 12 years before her death at age 70. While she was living, the Alzheimer's Association provided help for my dad, who cared for her at home until her death. I'd love to see a cure for this awful disease.
Bridging – Fran Heitzman (an angel here on earth) created this Twin Cities organization to create a bridge between those in need and those with excess (via donations of furniture and household goods and/or financial gifts). Bridging improves lives by providing quality furniture and household goods to those transitioning out of homelessness and poverty."
- Ellen Johnson, Chief Compliance Officer
"Our family favorite is the Ronald McDonald House Charities (Upper Midwest). Having a child with a serious illness is stressful enough for a family. The Ronald McDonald House Charities give families the opportunity to stay together within a caring community when they need it the most. With 4 young children, this organization has always hit close to home for the Winther family."
- Damian Winther, CFP®, Financial Advisor
"Reduced funding in public education has left future generations ill-equipped for success in understanding and managing their own personal finances. The societal and economic consequences extend beyond each individual's potential for financial security. BestPrep sponsors several educational programs aimed at improving the financial literacy of young people in Minnesota. The programs connect educators with business and industry professionals to bring practical knowledge of personal finances to the classroom."
- Steve Dixon, CFA, Investment Manager
"My organization is Arbor Day Foundation! They focus on using their donations towards planting trees globally. They currently have a fundraiser going on called #teamtrees in which their goal is to plant 20 million trees by January of 2020. Each dollar donated is equivalent to one tree planted. They have raised over $6,000,000 in about a week, and I wanted to be a part of it."
- Brett Hall, Client Service Specialist
"I've volunteered with the Financial Planning Association of MN (FPA MN) for nearly 8 years, which has included several years of pro bono financial planning work within the community. FPA MN is an organization that emphasizes education and community within the financial planning profession. As a young planner myself, it's important to help structure, design and promote the next generation of financial planning!"
- Rachel Infante, CFP®, Financial Advisor
"I have been a volunteer of the Junior League of Saint Paul for over nine years. It is an organization of women working to improve communities through the effective action and leadership of trained volunteers."
- Kimberly Mills, Marketing Manager
"My favorite way to "give" is by giving back. I am a small group leader at my church helping high school girls walk out their faith and come alongside them when they are faced with the many issues that distress our youth today."
- Stacey Nelson, CFP®, Financial Advisor & Client Service Specialist
"Jack's Basket is an organization with a mission to celebrate babies with Down syndrome and equip expectant parents with resources and avenues of support within the community. My friend, Carissa Carroll, started this organization after having her experience with her son Jack – who brings so much joy wherever he goes! The hope is that all would see that every life is worth celebrating."