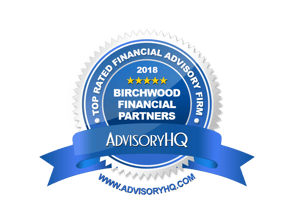 For the third year, Birchwood Financial Partners has been rated as one of the Top 10 Financial Advisory Firms in Minneapolis, St. Paul and Edina by AdvisoryHQ.
AdvisoryHQ's review shared the key factors for Birchwood to be included in the review:
Wide Range of Services
This Minneapolis wealth management firm and its advisors bring together a diverse set of experiences and skills to deliver a wide range of services to its clients, including:
Sustainable, Responsible, Impact Investing—The Minneapolis financial advisors at Birchwood can help you identify areas of your portfolio that are best suited for value-based investing
Legacy Planning—Helps clients work with their estate attorney to create a plan for asset distribution
Investment Management—Focuses on long-term strategies and balancing risk with portfolio growth
Retirement Planning—Sessions designed to uncover financial goals and explore options for sustainable income
Cash Flow and Budgeting—Helps clients adopt an organized, goal-oriented approach to their finances
Tax Planning—These Minnesota financial advisors will work closely with tax professionals and accountants to find the best possible tax solutions
Insurance Review—Helps clients identify any weaknesses in their existing coverage
Charitable Giving Strategies—Assists clients with finding flexible, tax-advantaged ways to make charitable donations
Education Planning—Balances personal and educational goals for parents and children
Talented, Diverse Team
Birchwood employs a diverse team of Minnesota financial advisors, with qualifications including Certified Financial Planner™, Chartered Advisor in Philanthropy®, and Chartered Financial Analyst.
Individual members of the team have enjoyed various awards and accolades, and nearly all maintain local and professional affiliations.
Uniquely, the majority of Minneapolis financial advisors and support staff employed at Birchwood are women, marking a stark contrast against the financial advisory industry. 8 out of 11 team members are women, with one being co-founder Kay Kramer.
In an industry where women are notoriously under-represented, Birchwood successfully maintains a clear commitment to keeping a diverse, talented team of Minnesota financial advisors.
Rating Summary
As a fee-only firm with a diverse, talented team and a client-first focus, Birchwood Financial Partners has earned a spot among the top-rated financial advisors in Minnesota.
Our review found the large percentage of female advisors particularly notable, particularly as global themes of gender diversity in financial services continue to spark in-depth research and conversation.
With a dedication to diversity, a wide range of services, and plenty of accreditation to validate the team's collective experience, Birchwood receives a 5-star rating as a top Minnesota financial advisor to partner with this year.
To read the full article click here.
Advisory HQ News is one of the fastest growing review and ranking media for the financial advisory sector. AdvisoryHQ's Methodology for Selecting Top Advisors.
To learn more about AdvisoryHQ visit advisoryhq.com