We are on week six of social distancing and working from home. Thank you to all our clients who have reached out to see how we are doing. We are so happy for the technology that keeps us connected as well as enables us to see and speak with our clients. We are very grateful that we are able to continue to serve you. Our whole team is healthy and safe, as well as our families. Our hearts go out to those who are battling the coronavirus and other illnesses or are worried about family who are.
I wanted to share with you a little about my pandemic experience. I'm at home with my husband. After 33 years of marriage, we pretty much have it down and are good companions for each other. Our daughters have their own places, and we check-in regularly with text, phone and FaceTime.
My daughter in Los Angeles is in digital marketing and has more work than ever. She is kept company by her significant other, cat and dog, whom we see via Instagram daily. My daughter in Minnesota shares an apartment with a good friend. She was recently furloughed. We are comforted by the new CARES Act that is providing her, and 22 million others, with extended unemployment benefits.
I was very worried about my mother who lives in Seattle and is in a high risk category. However, the state of Washington was one of the first to go stay-at-home and so far it seems to have paid off. She shares a house with my sister and lives next door to my other sister's family. They've formed a pandemic compound, which seems ideal. One home houses the stay-at-some workers during the day, and the other house deals with the students doing distance learning. My nephews seem also to be enjoying their longer hair and embracing the mud in the back yard during "recess".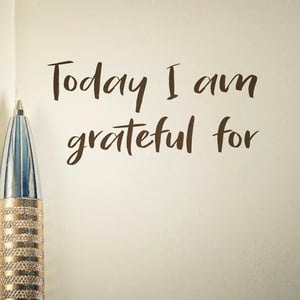 I've only hit the wall a few times– most of the time I'm doing well. I find if I stay busy (thank goodness for work!) and active this stay-at-home stuff seems doable. But when I think about the entire world being on lock down, people becoming sick, and others sacrificing their lives to care and provide for the rest of us, I become overwhelmed. It seems too big to fully comprehend. I have to back away from the news and find some equilibrium. That's when I find I turn to my gratitude list and think about what this pandemic has taught me. Here are a few things I've discovered:
I am thankful for our health and that most of the people I know are healthy. I feel lucky to live in Minnesota with strong leadership, excellent health care and a robust public health care system.
I appreciate my colleagues who not only are doing a great job working remotely, but they put up with me FaceTiming them instead of calling so I can see another face during the day.
I'm relieved for a break in my commute, which I hadn't realized was stressful.
I learned I am far more addicted to coffee than I realized, and coffee is the one item I may be hoarding.
I am delighted to have found Zoey's Extraordinary Playlist on Hulu. It is the show that seems farthest away from a pandemic and can make me both laugh and cry. And it involves music.
I am dreaming of travel and can't wait to get back out there into our big beautiful world!
I am so thankful the pandemic waited to infiltrate until most of us were set up with internet, phones and devices. I can't imagine what life would be like without the ability to work from home and connect with loved ones through text, voice and visuals.
I am grateful to our clients who are so graciously meeting with us over phone or video chats. Work is a blessing and I'm honored and thankful we continue to have your business. We appreciate all of you!
Sincerely,
Bridget Handke