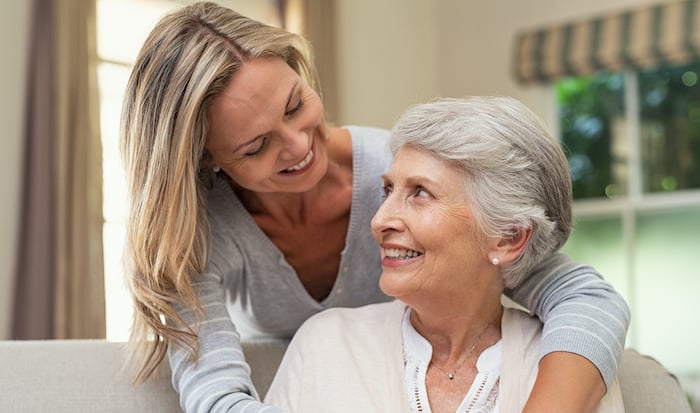 I recently spent time with my mom, who lives in another state. She had been in the hospital earlier this year. It was wonderful to see her doing well, getting around her home easily, and being able to have a nice conversation. Unfortunately, her short-term memory had declined. She would ask me the same questions repeatedly. When I was having coffee with her the last morning, she asked me ten times in 20 minutes when my flight left. It was a little disconcerting.
I have officially entered the time of life when you worry about your parents. My siblings and I have started having conversations about our aging Mom. So what do we need to consider? Below are some of the items we'll need to include in our plan and that you, too, may have to figure out as your parent(s) age.
Safety First For Aging Parents
The first thing to worry about is safety. Is your parent safe to move around their home? Is there too much clutter or rugs that could hamper their mobility? Can they reach things without a step stool? Do things need to be rearranged? Are they safe to go out and walk? Drive? Do they need to wear a medical alert device? USNews has a list of medical alert systems that could be beneficial. When my father had multiple brain tumors, he insisted on still driving. We sent him to Courage Kenny to have his driving evaluated to determine if that was safe or not—it was not.
In our family, we also need to discern if Mom is safe to stay alone in a home that has a stove and oven. She seems to manipulate her environment just fine, but will she remember to turn off the stove?
Housing Options and Considerations for Your Parents' Needs
What is suitable housing for your parent? Many articles suggest including your parent in this conversation—no one wants to lose control of their life. Do they want to stay in their own home? Is that possible? Does someone need to move in with them? Can they move in with you? Will the personalities mesh?
The options may include: Living in their own home, living in your home, moving to a retirement center, assisted living, nursing care, or memory care. Some places, such as Friendship Village, will provide a continuum of care from independent living through memory care.
Would a retirement home or assisted living make sense for them? Some people insist on wanting to stay in their homes. Others would prefer not to be a burden. My grandmother, who had Alzheimer's and was living with my parents, wanted to move to a retirement center run by her nephew. At first, the family thought living with them would be better, but my grandmother had a mind of her own. The retirement center had a continuum of care and a memory care unit, so it was an appropriate place for her. That is where she ultimately spent her last years.
Knowing When to Help With Your Parents' Finances
I've witnessed several clients' financial capabilities decline when they reach their mid to upper 80s. Some people seem open to having their children take over their finances, and others are reluctant. However, we've seen success when parents and children work on their finances together, such as paying bills monthly. That way the parent can still have some control while the child can make sure the bills are paid on time.
When monitoring the bank account to ensure all income is received and expenses are appropriate, keep a lookout for double spending and abnormal gifts to charity. It's easy for seniors to be taken advantage of, so having a child monitor the bank account can be helpful.
When looking at finances to determine housing options, you will want to consider their income, expenses, retirement accounts, investments accounts and bank accounts. What is the cost of the nearby retirement center? Will the finances cover it? Does mom need assisted living? How many months of assisted living will her finance cover? Here is a handy guide to what senior help costs across the country.
Some places will continue to take care of a person if they run out of money during their stay but may require that they have a certain amount of money to be accepted into the property. Medicaid may pay for long-term care options, but only if their assets are minimal, such as $2,000. And housing could be limited to only those facilities that accept Medicaid. Each state will vary. Medicare does not pay for long-term care but it does cover medical care in care facilities under specific circumstances and only for a limited time.
Does your parent have Long Term Care Insurance? If so, familiarize yourself with the policy. Many newer policies will likely pay for care in the home, for assisted living, nursing care as well as memory care. The oldest policies may only pay for one or two of those options. Typically, the policy will pay when a person cannot do two activities of daily living (ADL). ADLs may include bathing, toileting, transferring, dressing, eating and continence.
Also, cognitive decline may trigger a policy to become active as well. In order for the policy to start paying out, a person needs to be paying for care and be past their elimination period, typically 90 days. Meaning the first 90 days of care will be paid out of pocket. After that, the insurance company may pick up the tab up to their daily or monthly limit. For example, if mom has a monthly limit of $4,500, and her assisted living care is $6,000 per month, insurance will pay $4,500 and mom will pay $1,500, until the policy coverage runs out.
Documents
The family will want to be sure to help your parent obtain certain documents, which are listed below:
1. Medical Directive
A Medical Directive is also known in some parts as a living will and indicates what kind of care your parent wants. It helps direct their end-of-life care. Another document for end-of-life is called a POLST – Physician Orders for Life-Sustaining Treatment. It is meant to tell healthcare professionals what you want done in the event of an emergency and is specifically for people who are seriously ill or frail.
2. Durable Power of Attorney for Healthcare and HIPPA Release
This document allows someone to make healthcare decisions for your parent and is operative when a parent has diminished capacity.
3. Durable Power of Attorney for Finances
This document allows someone to help with the finances for your parent and continues to operate if the parent has diminished capacity.
4. Revocable Living Trust
This document details how finances will be handled if your parent is no longer able to handle them. It will name a secondary Trustee if Mom or Dad can no longer be their own trustee. Only some people will need a trust.
5. Will
This document will indicate who receives their assets upon their death. Note that a will won't supersede beneficiary designations. Any beneficiary designations for accounts such as retirement accounts, life insurance, and some bank and brokerage accounts will name who inherits those assets, and the will won't be considered.
Miscellaneous Resources for Caring for Seniors
I reached out to my network of friends who have already taken care of aging parents to see if they had any suggestions for my siblings and I to consider. Here are a few ideas from those who are already in the trenches:
If there are multiple children, pick a trustworthy one to manage the funds.
Your parent could deal with loneliness. If kids live nearby, set up a visiting schedule.
If it is difficult to get your aging loved one to medical appointments, consider looking at facilities with a doctor or nurse practitioner that comes to the facility. Some have dental as well.
The Alzheimers Association has an excellent resource for a caregiver support group—both in-person and online.
Look into prescription drug plans through their pharmacy. Not all drugs are covered by insurance and some pharmacies may offer special plans.
If needed, seek an elder care attorney if your parent needs estate documents or wants to update them.
Ensure you have access to health care records. Become familiar with health care and pharmacy insurance.
Apply for FMLA through your employer if you need to devote extended time to help your parent.
If one of your parents has died but is still on the bills, update them before the surviving parent moves out of their home. Otherwise, it can be challenging to deal with those utilities.
Ensure your parent still has the comforts of home if they move. For example, ensure they have a comfortable chair, a favorite newspaper subscription, and rides to visit their friends.
It's not easy figuring out the best way to care for an aging parent. There is much to consider, from comfort to finances, and everyone will have a different opinion. However, below are a few resources you and your family can turn to while figuring it all out.
Additional Resources