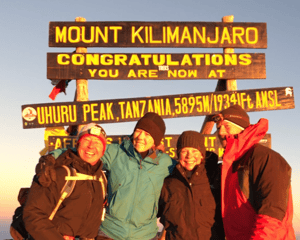 Growing up, my family often took adventure vacations. At 12-years-old we took a week-long rafting trip down the Selway River in Idaho rafting over significant rapids and an occasional waterfall. We backpack camped in the Cascade Mountains on numerous occasions. It was here that I first observed the transformative power of new experiences.
Along the trail we learned about Tanzania, their languages, but mostly about the joyful spirit that the team brought to our adventure. Our group of four hikers had 24 porters and two guides assisting us on our journey (yes, it took a village).
The porters were one of the most impressive and humbling experiences of the trip. These men, of all ages, carried anywhere from 40 to 80 pounds of gear on their shoulders and heads both up and down thousands of feet per day. The trail is steep, sometimes slippery, and is often covered by loose rocks and gravel. The porters are as sure footed as the mountain goats, passing us up on each leg of the trip after tearing down the campsite to have the next one prepared before we arrived. They did this while they smiled, sang, joked and encouraged us. It was because of our porters and guides that we were all able to summit.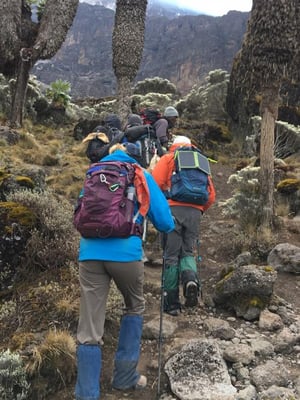 The day of the summit was by far the most challenging. We started the climb at midnight with headlamps to light the trail. I felt so completely intertwined in the activity of the climb that I missed a lot of what was going on around us. It required my complete mental focus to keep my feet moving when my body was asking for a time out. There were hundreds of climbers on the mountain and many were experiencing the results of the cold and extreme altitude; shortness of breath, dizziness and some other not so great symptoms. Our group marched six and a half hours to the summit with the mental focus that each step was one step closer to the goal. We reached the top at sunrise and I can't imagine a more majestic view.
Like this adventure, financial independence doesn't happen by accident. It takes planning, practice and the discipline to place one foot (or dollar) at a time. Sometimes on the trail we spent hours watching our feet and planning the placement or our next step. I would periodically remind myself to look up and enjoy the beauty of the mountain and look back to see how far we had traveled. Diligent investing can often mirror those feelings, plodding along putting away money each month isn't always exciting and occasionally we need to remind ourselves of the goal and how far we have come.
For me, adventures like this are about embracing life and creating deeper experiences.
I believe I was changed by this experience in a number of ways. I have a new appreciation for how much more we can ask of our bodies and minds. I have an appreciation for how hard the Tanzanian people have to work to make a living and yet how they do it with such joy. I appreciate Mother Nature—the majesty and fierceness of a mountain and the awe of looking up and seeing millions of stars. I have an appreciation for the friendship and encouragement of my fellow hikers and this amazing group of people that made all the effort worthwhile.