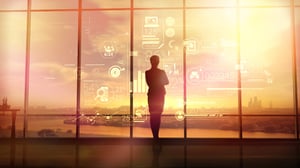 One powerful way to make a difference in today's world is by wielding our financial power. One way people are doing this is through Socially Responsible Investing (SRI), which is a philosophy where investors do more than just look for a return but also invest assets in a way that benefits society and the environment. Using this philosophy, one might look into investing in companies where the glass ceiling has been shattered and women hold the top spot, CEO.
There are many ways to invest in women and many indicators beyond looking at who runs the business, but we thought you might be interested in knowing which big companies, according to Catalyst as of January 24, 2019, have women as CEO's. At 24 women, it's a pretty small list:
| | |
| --- | --- |
| CEO | S&P 500 Company |
| Mary T. Barra | General Motors Company (GM) |
| Gail Boudreaux | Anthem, Inc. |
| Heather Bresch | Mylan N.V. |
| Michele Buck | Hershey Company |
| Debra A. Cafaro | Ventas, Inc. |
| Safra A. Catz | Oracle Corporation (co-CEO) |
| Mary Dillon | Ulta Beauty, Inc. |
| Adena Friedman | Nasdaq, Inc. |
| Michelle Gass | Kohl's Corporation |
| Lynn J. Good | Duke Energy Corporation |
| Tricia Griffith | The Progressive Corporation |
| Marillyn A. Hewson | Lockheed Martin Corporation |
| Vicki Hollub | Occidental Petroleum Corporation |
| Patricia Kampling | Alliant Energy Corporation |
| Margaret Keane | Synchrony Financial |
| Beth E. Mooney | KeyCorp |
| Phebe N. Novakovic | General Dynamics Corporation |
| Patricia K. Poppe | CMS Energy Corporation |
| Barbara Rentler | Ross Stores, Inc. |
| Virginia M. Rometty | International Business Machines (IBM) Corporation |
| Susan N. Story | American Water Works Company, Inc. |
| Lisa Su | Advanced Micro Devices, Inc. |
| Jayshree Ullal | Arista Networks, Inc. |
| Kathy Warden | Northrop Grumman Corp. |
Since, only about five percent of S&P 500 companies are run by women, we thought it would be helpful to provide other strategies for finding and investing in women.
Board of Directors with Women Leadership
The S&P 500 Index or Standard & Poor's 500 market is a market-capitalization-weighted index of the 500 largest U.S. publicly traded companies. Since, we already know that women CEOs represent a small percent of these companies; we can look at other ways that women are breaking glass ceilings. Catalyst research, has created a S&P 500 Pyramid, which looks at how women are represented overall in these companies.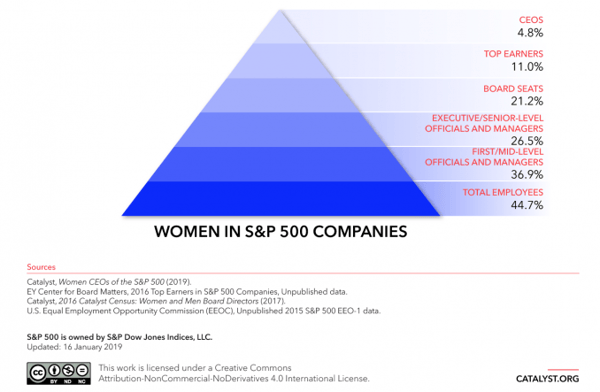 Graph 1
One metric that can be used when choosing companies based on their women leadership is to look at their board of directors. Although boardroom diversity is increasing, women remain underrepresented. Three or more is generally the "critical mass" or the number that research has found can lead to better financial performance1. In 2017, nearly a third (31.5 percent) of global MSCI ACWI (an index containing all sources or equity returns in 23 developed and 24 emerging markets) boards had at least three women, up from 27.4 percent in 20161. In the US, women were 24 percent of directors, up from 22 percent in 2017 and 16 percent in 20082. Not surprisingly, companies with a woman chair had nearly twice the number of women on boards than those with man chairs. In some countries in Europe, gender quotas now exist to have women on boards. California is the first state in the country that has passed a law that mandates that publicly held companies based in California to have a minimum of woman on their boards of directors by the end of 2019.
Gender Lens Investing
With the above numbers around women CEOs and board members, it's important to not be discouraged. Gender Lens investing can provide some framework when building a portfolio that invests in Women. Gender Lens investing means incorporating gender-based factors, to improve returns, reduce investment risk or to promote gender equality. It can use proxy voting as a tool in an attempt to influence a company's management to take action on certain issues. Learn more about Gender Lens investing.
What can you do?
Make changes to your investment strategy is just one way to invest in women. We've provided a list of everyday items to consider.
Consider where and how you shop. Is it a company that supports women in a variety of ways, from wages to leadership to board diversity to community work.

Consider being a mentor for women in your workplace.

Consider promoting women-led businesses on social media.

Look at a local resource, Eden Prairie based www.maia.community an organization that is creating a list of woman owned businesses that consumers can reference so they can support women entrepreneurs.
Sources
Source 1: MSCI: Women on Boards: Progress Report 2019, https://www.msci.com/www/research-paper/women-on-boards-progress-report/0806530251
Source 2: 2018 U.S. Spencer Stuart Board Index, https://www.spencerstuart.com/research-and-insight/ssbi-2018
Graph 1: Catalyst, Pyramid: Women in S&P 500 Companies (January 16, 2019). https://www.catalyst.org/research/women-in-sp-500-companies/