Market Insight - February 2020
As you know, the capital markets have reacted swiftly and severely to the continuing news of a new coronavirus disease, named COVID-19. While the initial market reaction to COVID-19 was fairly muted, that all changed last week. In just six days, the S&P 500® Index fell over 10 percent. This stands as the fastest correction on record. A correction is a 10 percent drop from a market peak.
Chart 1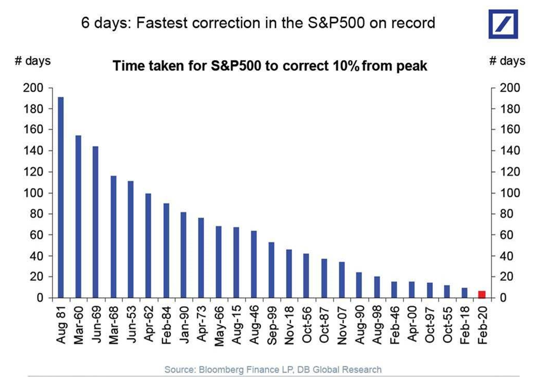 The reaction has been seen across the capital markets, with the yield on 10-year treasury notes dropping to record lows. This was a dramatic abandonment of investments that carry higher risk characteristics in favor of lower risk investments.
What does the impact of Coronavirus mean for your investment strategy?
It is situations like this that can lead to making poor investment decisions. We are designed to get defensive in the face of danger. Uncertainty and fear are gripping the capital markets. The natural human reaction is to seek to stop the pain and limit our losses. Once there's an understanding for how bad COVID-19 will be, consideration will be given to moving back to a regular investment strategy. It seems rational, but is ultimately what dooms investors to sub-par returns over time. We shouldn't react to uncertainty in the capital markets as we might to a physical danger.

Warren Buffett's wisdom is often cited in circumstances like the current spate of market volatility. He described two other contagious diseases that are pervasive in the investment community, fear and greed. His advice was simple, but tends to be exceptionally difficult in practice. He advised investors to "be fearful when others are greedy and to be greedy when others are fearful"1. It seems like a simple recipe for success as an investor when neither fear nor greed are pervasive, but applying Mr. Buffett's advice when it becomes applicable is very difficult. After all, there's usually a pretty good and justifiable reason why others are greedy or fearful, depending on the scenario.

Currently, the reason for exceptional fear is the uncertainty around the spread of COVID-19, the lack of assurance in the statistics being reported on the disease's mortality rate and the seemingly significant disruption to economic activity in Asia and thereby, the world. When faced with this level of uncertainty, decision-making becomes compromised. The ability to make prudent, rational decisions becomes further strained when coupled with the fear of losing money. So what can we do when we're in a situation where the depths of the crisis are unknown, we want to do the right thing, but we also want to protect ourselves? We believe the answer is to plan ahead.
During Market disruptions, keep your long-term goals in mind
We are all seeking answers to the question of how bad this will get, but it's unlikely that any of us will get that information before anyone else and be able to act on it with our investments. Instead, we'll all receive the news instantaneously and the capital markets will adjust accordingly in no time at all. So reacting seems to be a fool's errand. That is why we build your investment portfolio under the assumption that capital markets will fluctuate, sometimes wildly, over shorter periods. We don't need to know why the markets will fluctuate and we don't need to guess at the height of the peaks or the depth of the troughs. Instead we execute your long-term investment strategy throughout good and bad markets, rebalancing when our discipline calls for it, building a sufficient level of liquidity to support expected portfolio distributions, and investing portfolio contributions according to our plan.

Some may criticize this approach and may be vindicated in the near-term as the investing public continues to adjust expectations and markets fluctuate. However, we sincerely believe that over the long-term our approach will be more successful at helping you accomplish your financial goals. Avoiding reactive decisions during periods of irrational exuberance or pervasive anxiety often leads to better outcomes over the course of your investment horizon.
Focus on the facts
Our thoughts and prayers are with those globally that are facing the many challenges associated with the outbreak of COVID-19. We encourage all of you to do what you can to be a source of positivity and support in this time of unease. We'd also advise that you be astute consumers of information, seeking it only from reputable sources. As the Director-General of the World Health Organization, Dr. Tedros Adhanom Ghebreyesus advised, "our greatest enemy right now is not the coronavirus itself. It's fear, rumors and stigma. And our greatest assets are facts, reason and solidarity".2

This too shall pass. Capitalism and the globalization of trade and economic activity will continue. Investing for the long-term will continue to be rewarded. If the current market volatility is causing you anxiety and it would be helpful to discuss your financial situation with us, please do not hesitate to reach out to any of us. We are here to serve you and would welcome the opportunity to provide support to you at any time.
Table 1
Market Indices (as of 12/31/19)

4th

Quarter

One Year

Dow Jones Industrial Average
+6.7%
+25.3%
NASDAQ Composite
+12.5%
+36.7%
S&P 500 Index
+9.1%
+31.5%
Barclays Capital Aggregate Bond Index
+0.2%
+8.7%
Small Cap Stock (Russell 2000 Index)
+9.9%
+25.5%
Non-US Stock (MSCI EAFE Index)
+8.2%
+22.0%
Gratefully yours,
Steve Dixon, CFA®
Investment Manager
Kay Kramer, CFP®, Dana Brewer, CFP®, Bridget Handke, CFP®, Damian Winther, CFP®, Rachel Infante, CFP®, Stacey Nelson, CFP®
Sources
1 Source: Buffett, Warren E.; https://www.berkshirehathaway.com/letters/1986.html; accessed February 28, 2020.
2 Source: "WHO Director-General's opening remarks at the media briefing on COVID-19 - 28 February 2020"; https://www.who.int/dg/speeches/detail/who-diretor-general-s-opening-remarks-at-the-media-briefing-on-covid-19---28-february-2020; accessed February 28, 2020.
Chart 1 Source: Borodovsky, Lev. "The Daily Shot: U.S. Market Outperformance vs. the Rest of the World Is Narrowing Rapidly." The Wall Street Journal; February 28, 2019; https://blogs.wsj.com/dailyshot/2020/02/28/the-daily-shot-u-s-market-outperformance-vs-the-rest-of-the-world-is-narrowing-rapidly/; accessed February 28, 2019.
Table 1 Source: Morningstar. Market indexes are unmanaged and investors cannot invest directly in indexes. However, these indexes are accurate reflections of the performance of the individual asset classes shown. All returns reflect past performance and should not be considered indicative of future results.
Opinions expressed are not intended as investment advice or to predict future performance. No independent analysis has been performed. Investment decisions should not be based on information in this letter since the information contained here is a singular update, and prudent investment decisions require the analysis of a much broader collection of facts and context. All information is believed to be from reliable sources, however we make no representation as to its completeness or accuracy. All economic and performance information is historical and not indicative of future results. Asset allocation, which is driven by complex mathematical models, should not be confused with the much simpler concept of diversification. Asset allocation cannot eliminate the risk of fluctuating prices and uncertain returns. Rebalancing may be a taxable event. Before taking any specific action, be sure to consult your tax professional.