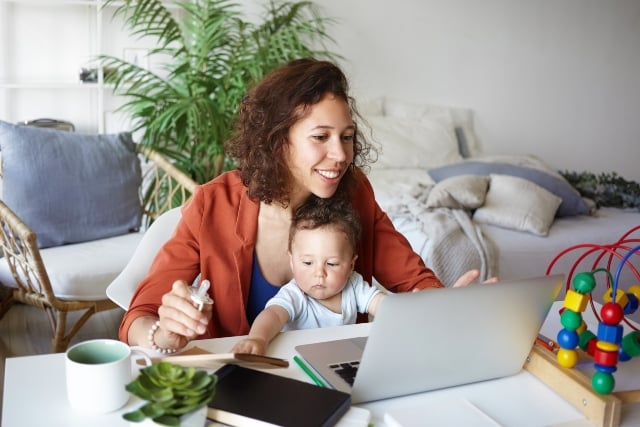 The role of women in households has seen dramatic changes in recent decades. Today, more women work full-time and play an active role in finances. Women account for over 40 percent of the primary breadwinners in U.S. households with children under 181, and it is estimated that by 2030, women will control two-thirds of U.S. wealth2. Though this trajectory has been vast, there are still wage gap concerns. In 2021, women earned only $0.82 for every dollar a man makes3. The wage gap is undoubtedly shrinking, but it ultimately means women are working harder to make similar wages to their male peers.

The "breadwinner" status in a household carries specific stresses that may differ for women than men. Outside of their jobs, women tend to take the primary role in household matters, including:
Caring for children –Decision-maker for their child's health and wellbeing.
Maintaining a household – Tending to the organization and flow of daily living.
Organizing agendas – Time is of the essence with working women. Things must be scheduled and accounted for regularly.
Running the finances – As mentioned above, women are now more than ever in charge of household finances, including monthly bills.
Carrying financial responsibility – For female breadwinners, this can be a big one. Ultimately being financially responsible for most of your household needs.
These roles can lead to higher stress levels, more room for burnout, and relationship issues with your partner or spouse on top of a busy workload. Financial priorities may get buried in the mix of daily chaos. Here are four key reminders to work-life balance:
1. BE PROUD OF YOURSELF AND YOUR ACCOMPLISHMENTS
First off, be proud of yourself! You're doing wonderful things for yourself, your family and your company. At times you may feel overwhelmed, worried your efforts aren't enough or wondering which matter you must give more attention to today. Remember that you don't need to be perfect and do it all. It's essential to create boundaries for yourself. Avoid over multi-tasking so that you may be more present on your current task, whether that's at work or home.
2. INCLUDE YOUR SPOUSE OR PARTNER
Anyone can feel intimidated or less worthy when a spouse earns more than they do. For many years, society placed women as the caregivers and household managers and men as the financial providers. Today women are still playing most of the household roles and carrying more of the financial responsibility. This may leave your spouse feeling as if they aren't serving a purpose or providing enough. It's important to remind your spouse of their value and work towards a true partnership when making decisions
3. DIVISION OF LABOR IS MORE IMPORTANT THAN EVER
Division of labor is key! Have your spouse or partner play an active role where they can. Delegate tasks and give up control, which can be freeing--especially if you have children. Having both parents involved in day-to-day household matters is essential for bonding and allows you to spread out your time more efficiently.
4. PLAN FOR YOUR FUTURE
Remember that part where I said financial priorities might often get buried? Make sure they don't! Planning for your future and your family's future must be a high priority, especially since women are living longer. Meet with a financial advisor to help you sort through opportunities and ways to automate savings, so it's one less thing you have to think about. For most people, this helps to reduce the stress around finances and improve quality of life, particularly in knowing that one has significantly enhanced the probability of achieving their long-term financial goals by having a plan.
Sources:
Source 1: Pew Research Center, Parenting in America, https://www.pewresearch.org/social-trends/2015/12/17/1-the-american-family-today/#mothers-moving-into-the-workforce December 17, 2015
Source 2: McKinsey & Company, Women as the Next Wave of Growth in US Wealth Management, https://www.mckinsey.com/industries/financial-services/our-insights/women-as-the-next-wave-of-growth-in-us-wealth-management, July 29, 2020
Source 3: payscale, The State of the Gender Pay Gap in 2021, https://www.payscale.com/data/gender-pay-gap, accessed May 4, 2021