As labor and vehicle part shortages have declined, the automobile inventory has bounced back; you might be ready for a new set of wheels!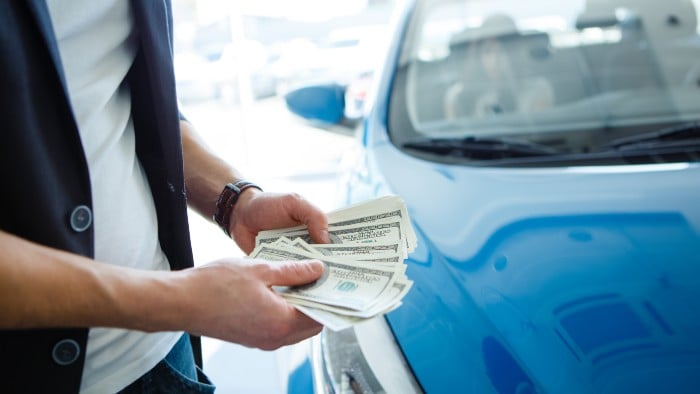 The Federal Reserve has been fighting to slow inflation by raising interest rates, affecting many in the market for a new vehicle. Anytime you make a large purchase, it is wise to consider the options available to fund the purchase. Before you get too revved up about your dream car, pump the brakes and consider these questions below.
What is My Current Vehicle Trade-in Value, and What Do I Do With It?
First, find a reputable used-car price guide to give you a ballpark idea of your trade-in. You can look up the value of your current vehicle. With various ways to do this online, look at prices in your area, as location can influence car prices. Now that you have an estimate of the value of your car, keep an open mind and consider options on what to do with your vehicle:
Dealer Trade-In: Shop around! Ask a few nearby dealers to quote your current vehicle's trade-in value. If you trade it in, the value of your trade-in will help reduce the sales tax owed on your new vehicle (see chart below), but you will probably get a lesser amount in a dealer trade-in than you would a private sale. This option is easiest but may not be the best financially.
Private Sale: Typically, it is financially advantageous to sell the car privately. However, most consumers chose the dealer trade-in because it's simple, comfortable, and familiar. From my experience, the private sale route was not as intimidating or as much of a hassle as I had anticipated. The question to ask yourself is this: is the difference between proceeds on a private sale vs. trade-in worth the time you put into selling it privately? Only you can answer that for yourself. Look at the chart below to see the difference in out-of-pocket expense on the private sale vs. trade-in option.
The private sale may require more involvement in preparing the vehicle, posting it (i.e., Facebook marketplace or Craigslist), and finding a buyer. Once you have a buyer, you simply need to fill out the Title/Registration application and receive the payment for the vehicle. I'd recommend a check or money order for any private party sale. Expect payment to happen when you transfer the car title. Meeting at the DMV provides a safe, public area to meet your buyer.
What Do You Owe on Your Current Vehicle? You may transfer your loan to the buyer if you still owe on your car. According to Investopedia, the lender may agree to transfer the loan into their name if the buyer can qualify for the car loan. However, the new borrower may prefer a new car loan from another lender. The new lender will pay off your car loan.

Donate Your Vehicle: If you itemize deductions on your tax return, you may get a tax deduction for your donation and benefit financially. Many non-profit 501(c)(3) organizations accept used vehicles for donation. You will need to know the value the charity sold the vehicle for, which is your deductible amount. Unless the charity sells the vehicle for less than $500, you can deduct up to $500 if the car's value is more than the sale price. Talk with your tax advisor for specifics on your situation and your tax advantage.
How To Pay For Your Car Purchase
The cheapest way to purchase a car is typically with cash. Paying with cash may bring leverage in negotiations, and you spend less money by avoiding interest on monthly payments. However, depending on your values, a cash offer isn't always an option or the best option. Planning and earmarking monthly savings or a lump sum towards a future car purchase would be the ideal way to finance a car because you are the banker. If you have time leading up to your purchase, consider some saving options:
Monthly Savings Buckets: Fund monthly a "car payment" to yourself earmarked for a future car purchase. Open an online, high-yield savings account, such as the Capital One 360 Performance Savings plan, which as of this publication, is at 4.1% APY (annual percentage yield), or Ally Bank, which is at 4.0% APY. Fund your savings account monthly as a car payment to yourself. Set it and forget it! The account builds up with the interest earned and automated payments, and you have a nice cash stash when you are ready to buy a car. It just takes some planning.
Read More: Bucket Budgeting
Lump Sum Deposits: If you get a large bonus at work, have a second job/side hustle, or have any one-off earnings, these could be earmarked for the car purchase as well. Use the same online high-yield savings account strategy above and use these earnings for a vehicle.

What if You Are Still Short? Let's say you plan to use those dollars you saved to purchase a vehicle, but you do not have enough. Consider power saving for a short period, and push out your purchase date to allow you to pay in cash, or find a cheaper vehicle to purchase. If these are not feasible options, you will need to finance the remaining balance.
What are the Current Financing Options?
With interest rates rising and most likely around 6%, the financing option doesn't seem nearly as appealing as it did a year ago. However, you may get lucky and find a deal depending on your credit score and the vehicle type you purchase. Regardless, if the loan is more than 4%, it's probably cheaper to use cash. If you have a relationship with a credit union, consider their loan options and if they can compete with the auto dealer.
Consider Loan Terms: You may have the option to choose the loan length – from 36 months to 72 months. The longer the term, the less the monthly payment, but you may pay more due to interest.
What Monthly Payment Can I Afford that Works Within My Spending Plan?
Having a spending plan allows us to determine our money goals and discipline to achieve them. A rule of thumb is to spend no more than 10-15% of your monthly take-home pay on a car payment, which includes the principal and interest on the car loan. Or even better, to save up for the car purchase and pay yourself 10-15% over time.
Do I Lease or Buy?
This is always a question many consumers consider. Before making your decision, check out this blog that breaks down the costs and benefits of both options.
The chart below outlines a purchase of a $35,000 car, with 6.5% tax, a trade-in value of $10,000, and private sale proceeds of $15,000. As you can see, you save approximately $4,350 by selling privately, which may be a compelling amount to pursue that option, which can only be determined by you, the seller.
| | | |
| --- | --- | --- |
| | Private Sale | Trade-In |
| Vehicle Purchase Price | $35,000 | $35,000 |
| Trade-In Value | $0 | ($10,000) |
| Tax % | 6.50% | 6.50% |
| Tax | $2,275 | $1,625 |
| Total Cost | $37,275 | $26,625 |
| Private Sale Proceeds | $15,000 | $0 |
| Out of Pocket | $22,275 | $26,625 |
| Difference | ($4,350) | |
Early planning for this large expense will set you up for the best success. It's financially freeing when you don't have a car payment and can be proactive in saving for the next purchase. The strategies above hopefully illuminated some options for you to consider, even if it's uncomfortable at first.