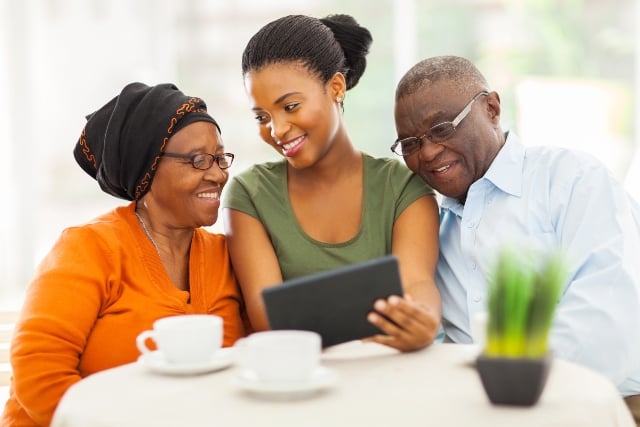 As a financial advisor, I've witnessed clients dealing with end-of-life with their parents. Sometimes it goes smoothly and other times not. If a parent declines but doesn't have proper documents, rectifying the situation can be a painful court process. After death, people may find their parent's estate plan is a mess or non-existent. Missed beneficiary designations, mixed up files, money in way too many accounts. The bigger the tangle, the more work there is and the greater the possibility of family discord.
This is why we work with our clients to help establish an estate plan with their attorney so as they age, their finances can continue to work for them and their wishes upheld after they are gone. Sometimes, our clients are worried about their parents and how they can help them without being intrusive or seem only interested in their money.
It's a delicate balance. Families can be very different. For example, some families are open about money while others practice "money mystery" (a term borrowed from a client). So approaching mom and dad to understand or help them with their estate plan or to assist with managing their money may need some thought and planning.
Asking your Parent about their Estate Plan
You may want to ask your parents about their estate plan to see if they even have one and to ensure that they have set things up correctly so their wishes can be honored. Below are a few ideas that may help this conversation along:
1. Include Everyone
The last thing you want to do is appear like you want inside information. If you are going to have the estate planning conversation, you may want to include your siblings. You might consider broaching the discussion during the holidays when people are in a good mood and available. This way, everyone can be on the same page, so there are no secrets.
One Thanksgiving, when all the family was present, my in-laws discussed their wishes for the end of their life. At first, it seemed a bit morbid, but as the discussion continued, we all got to share our thoughts and hear them out. Finally, we all were in the same room together and heard the same thing. Especially because neither of them was sick at the time, it ended up being an ideal time for the conversation.
2. Talk About Your Own Experience
As an attorney specializing in Elder Law and Estate Planning, Kate Graham shared that she often works with clients who are diligent about working on their estate plan but express worry over parents who are not as organized or willing to talk about end-of-life issues. It can be difficult to bring up because most of us are not comfortable talking about death or money.
Kate's tip would be to introduce the topic by talking about your own experience with estate planning and the peace of mind that it has given you. Mention to your parents that you hired an attorney to help you and that the process was not overly difficult or expensive. How you are happy knowing that your affairs are all in order and your family won't have to worry about dealing with a complicated mess when you're gone.
She also suggests bringing up a situation that you have heard of or may have experienced yourself where someone did not have an estate plan and how difficult it made things for the family they left behind.
3. Ask Your Parents What Their Wishes Are
The whole idea of an estate plan is to make sure of two things: If a person cannot manage their assets or their health while they are alive, who will take care of things for them? And once they have died, how will their assets be distributed?
You might approach a parent and talk about someone you know that recently died, and it got you thinking. You can ask them that when the time comes for them how would they like things handled. For example, "Who do you want to take care of things if you become incapacitated." And "Who might handle things once you have passed?" You can ask what the big picture is and what their intent is. Asking questions like this can give an opportunity to ask specifically about their estate plans.
4. Ask Your Parents what Their Ideal Situation Is
How do your parents envision their future? As they slow down, where do they want to live? Do they want to stay in their house? Would they consider moving to a retirement center? What will be the triggers for them to make a change? How can you assist them? If they need care, do they have the resources to fund that care? Will they want to move in with a child? Is there an agreement on what that will look like?
Read More: Have You Talked With Your Children About Your Estate Plan? Start Here>>
5. Get Specifics on Their Funeral Wishes
Since you are having the conversation, you can ask them what their funeral wishes are. Some people might already have picked out a plot and paid for the funeral, while others prefer cremation or even a new, environmentally friendly resting place. You might ask about readings or songs to include in the funeral. When my father was ill, and we had a family gathering, my sister said, "Hey Dad, what kind of funeral do you want?" We were all a bit shocked, but as it turned out, it got the conversation going. And when he did pass, we had a starting point in planning his funeral.
6. Find out How to Gain Access to Their Accounts
As you are aware, so much of our life is online now. When it comes to death, that can make it a bit tricky. Sometimes mail has been turned off in favor of online statements. If that is the case with your parents, you will want to find out where they keep the information regarding their online life. In addition, the person in charge after the funeral will need to determine what the assets are, where the will is.
7. Offer to Find Them Qualified Help if Needed
My husband and I decided to remodel our kitchen, and then nothing happened. I had no idea how to start. I wandered the aisles of Home Depot but couldn't wrap my head around the project. Finally, we reached out to a local cabinet maker, and the project got started. If your parents don't have an estate plan, one reason might be because they don't know how to start. Here is where you can offer to help find a qualified estate planning attorney. You can seek referrals from the professionals in your life, your financial advisor, or CPA as a starting point.
8. Don't Ask How Much Money They Have
Many people grew up in a "money mystery" household. Even though parents have aged, it doesn't mean they've changed their ways. You can ask them about the big picture of their estate plan, wishes for elder years, and intentions after they have gone. But asking them how much money they have might shut down the conversation. They might offer to tell you, and they might not. The key is that your family supports your parents and works together to make sure their plan is in place and functional. The money is immaterial.
Investment Advisory services offered through Birchwood Financial Partners, Inc. an SEC Registered Investment Advisor.
All written content is for information purposes only. It is not intended to provide any tax or legal advice or provide the basis for any financial decisions. All financial products have an element of risk and may experience loss. Past performance does not indicate future returns. Opinions expressed herein are solely those of Birchwood Financial Partners, Inc., and our editorial staff. Material presented is believed to be from reliable sources; however we make no representations as to its accuracy or completeness. All information and ideas should be discussed in detail with your individual adviser or qualified professional before making any financial decisions. We are not affiliated with or endorsed by the Social Security Administration or any government agency. The inclusion of any link is not an endorsement of any products or services by Birchwood Financial Partners. All links have been provided only as a convenience.