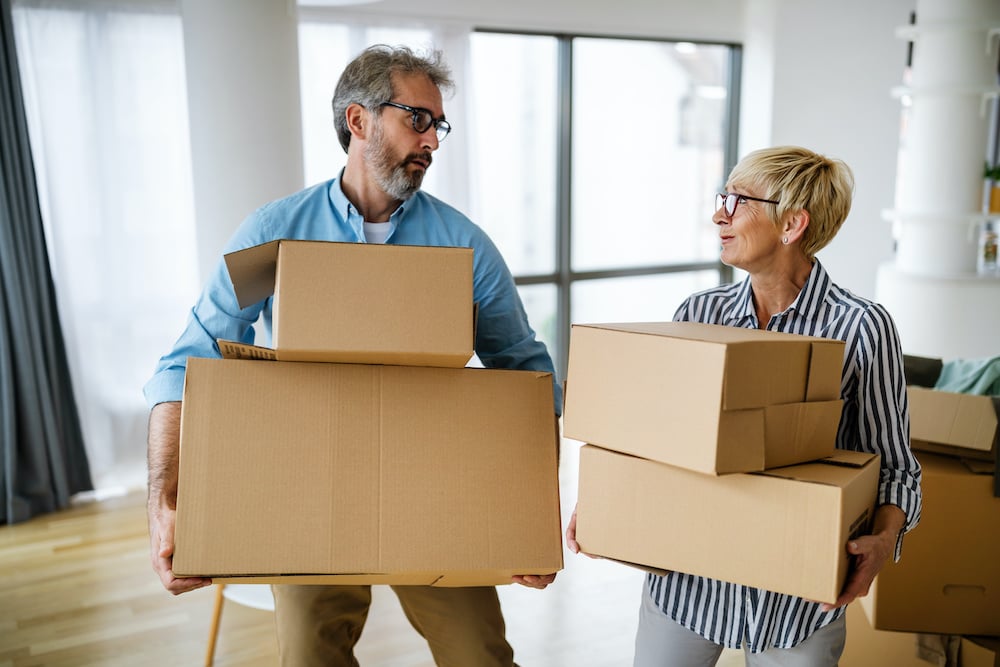 For most people, retirement can bring a sense of freedom to make big choices you otherwise couldn't have made while working. However, some of the most significant decisions frequently come with a price tag. For example, do you plan to travel more, take up new hobbies, or spend more time on existing hobbies? On the other hand, some want to downsize or even move to another state or location altogether. The idea of moving comes about for many reasons. Maybe to be closer to family, have a different climate, different activities or scenery, or perhaps it's purely for financial reasons. Whatever the case may be, it's important to narrow down exactly why you want to move. That will help to be your guide as you start your search.
Here are a few recommendations and several things to consider as you begin to think through a potential move:
Try visiting a few places first.

You may be looking for a beach or mountains, more temperate weather, or maybe an area with a lower cost of living. Many states might offer exactly what you think you're looking for, but they all have slightly different flavors. Before deciding where you want to land, try renting a space in different locations to get a feel for the overall culture and dynamics. Maybe you've picked the state but not necessarily the city. Try a few cities first. Maybe even during a few different times of the year.



Does renting or buying make more sense?

Do you plan on selling your current home and moving out of state entirely, or do you plan on having a hybrid of locations? Can you afford to carry the costs associated with two properties? Renting for an extended period elsewhere may be a good idea. Often people want to leave their current location due to weather changes, and if so, maybe you only want to be away for part of the year. Getting a long-term rental for several months may make more financial sense but still give you that happiness factor.

Read more: Tips for Buying & Selling A Home in the Current Housing Market>>



What are the financial implications of your move?

Will you need to get a mortgage to buy your new property, or will you have enough equity from your current home to pay cash? How you finance your new home depends on where you're looking and the prices of homes you are considering. Are the state and local taxes where you want to move higher or lower than your current taxes? Is the cost of living, in general, less or more expensive? It's helpful to have some of these answers so you can make a cost comparison to make sure your budget allows for any changes. Here's a useful website that breaks statistics down by city: https://www.bestplaces.net



Healthcare coverage and potential changes.

Healthcare can be a significant factor that people often forget. If you have providers you see regularly; you'll want to make sure to find someone to replace them once you move. In addition, it's essential to check with your health insurance plan to make sure any new providers you add are in-network so you avoid paying high out-of-pocket costs.



You are moving to be closer to children or family.

Before leaving your friends and community, make sure that your new community will suit your needs beyond the family aspect. Living close to family can bring a sense of comfort, but it doesn't always provide the socialization that retirees often crave. It's also good to set boundaries and to have open communication with your family on expectations. When you've lived apart for so long, it's easy to forget about boundaries when you no longer have space between you.



Consider the politics.

If you are active in politics, or if voting is important to you, get to know the politics of the state and maybe even the cities you are considering. Getting a feel for the political climate may give you a better chance of meeting others that share similar values.
In general, there are many reasons a move may or may not make sense. Your financial advisor can help you narrow down the financial aspects of a potential move, but there are many other pieces to consider. Take your time and don't rush on a decision. Visit a few places and "try it on for size" before committing to anything. That will set you up with the biggest chance of success and overall happiness.
Investment Advisory services offered through Birchwood Financial Partners, Inc. an SEC Registered Investment Advisor.
All written content is for information purposes only. It is not intended to provide any tax or legal advice or provide the basis for any financial decisions. All financial products have an element of risk and may experience loss. Past performance does not indicate future returns. Opinions expressed herein are solely those of Birchwood Financial Partners, Inc., and our editorial staff. Material presented is believed to be from reliable sources; however we make no representations as to its accuracy or completeness. All information and ideas should be discussed in detail with your individual adviser or qualified professional before making any financial decisions. We are not affiliated with or endorsed by the Social Security Administration or any government agency. The inclusion of any link is not an endorsement of any products or services by Birchwood Financial Partners. All links have been provided only as a convenience.